A year or two ago Willie and I saw our first photo of Triple Falls and immediately said "we have to go there!" Alan joined in and the 3 of us flew down to Glacier National Park for what we hoped would be a great weekend. Our first stop: Logan Pass and Triple Falls. We were in for a lot of surprises, and most of them not what we wanted.
Our first surprise came as we drove into the park. A giant sign stated "Road construction: Going-to-the-Sun Road Closed 9pm to 7am" between Logan Pass and our cabin. Well that put a kink on photographing Logan Pass for sunset and sunrise! It turns out that at 2am a pilot car would come by and take anyone that was "stuck" through the road closure. Our plan of attack became "shoot sunset, sleep in the car till 1:45am, take the 2am pilot car, get an hour of sleep in the hotel, then wake-up for sunrise." We did this on several occasions. It might explain why we became nocturnal.
Another surprise was the weather. We watched what we had hoped would be perfect clouds disappear right before our eyes, just minutes before sunset. For 2 days it rained so hard and was so foggy we could barely see our feet. In the end we made the best of the situation and came home with 3 or 4 keeper shots and one morning of great light.
On our last day in the park the thunderstorms finally started to clear and we raced to Logan Pass in hopes of a nice sunset. With plenty of time before the sun went down we played around, shooting wildflowers, running around from waterfall to waterfall, and trying our hand at some long exposures with the Lee Big Stopper. In this 75 second exposure I was able to capture some of the last of the fleeting clouds as they streaked over the mountain peaks. The shadows created from the clouds left a "batman" symbol on Piegan Mountain. About 15 minutes later it was clear blue skies again. I'm glad I managed to get this in before the clouds were gone!
I also worked a version in color. Which do you like better?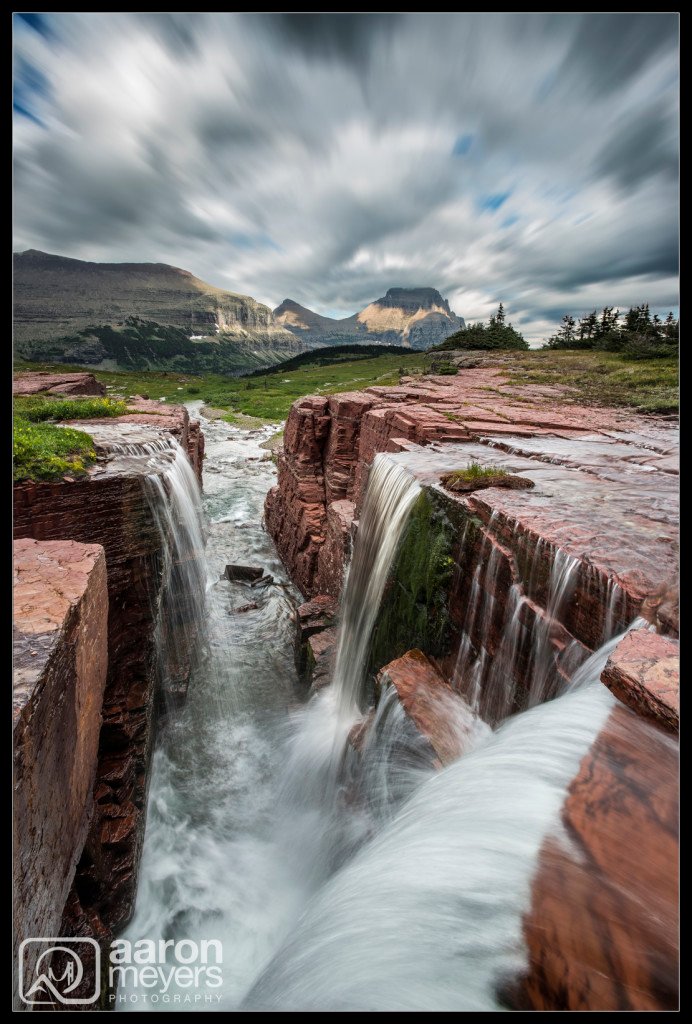 Nikon D800 w/Nikkor 17-35mm f/2.8 ED-IF AF-S:
17mm, f/20, 75 sec, ISO 80