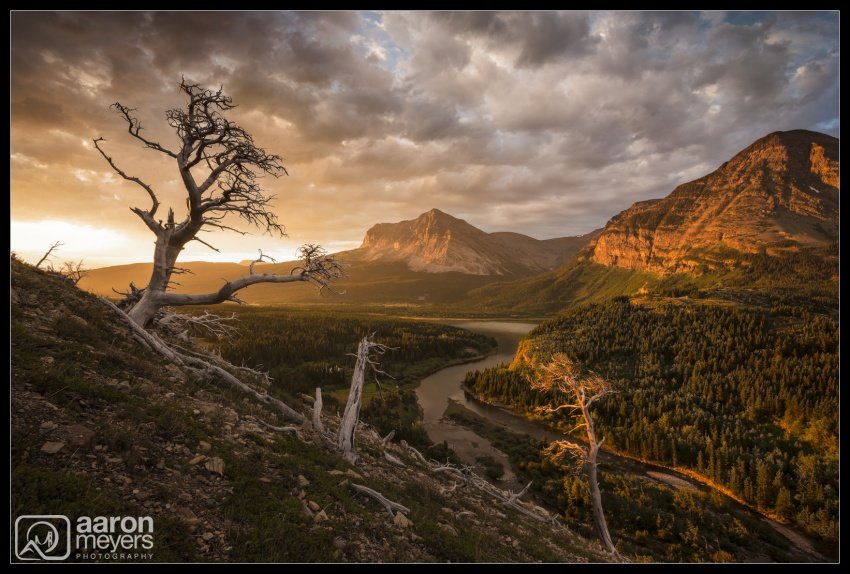 I normally try not to get too excited for things in the future that have a high probability of changing but as Willie, Alan, and I checked the weather forecast for our upcoming trip to Glacier National Park I couldn't help but let the excitement build up. The weather looked perfect! Things didn't go quite as planned. We would watch beautiful clouds fizzle away right before our eyes, thunderstorms roll in, rain pour for hours and the fog get so thick you could barely see your feet. For a day and a half we sat around doing nothing because the weather was so bad.
On the 3rd morning we woke up at 4am and saw a few stars peaking out. "Maybe the storm will break" we thought. Dragging ourselves out of bed we made our way into the park and started to get excited! It looked like the clouds might be thinning! You know what happened next, right? Mama Nature was right on queue and within a blink of an eye made those clouds disappear completely. At this point we felt pretty defeated – even almost to the point of anger.
It's a good thing we're not quitters because just as quickly as the clouds disappeared they came back and positioned themselves perfectly in the mountains. They say the best photos come from patient photographers and in this case it's true. When the sun rose above the horizon it lit the entire scene in a beautiful orange glow. The word "dynamic" continuously came up whenever we talk about this scene. Everything came together perfectly: the glow in the branches, the S-curve in the river, and the illuminated mountains all made for the perfect scene to wake up to. And let me tell you — we had quite the "wake your tuchas up" moment …
Earlier in the morning, I asked Willie and Alan: "What do we do if we see a bear while we're there?" Willie replied "it's too steep for a bear to be up there. We should be fine." I didn't really believe his answer but it was too early in the morning to argue. While snapping away I noticed something move in the background. "Oh hey, look⦠Bear" I thought to myself. About 2 seconds later I realized what I just said in my head: BEAR!!!!!!!! GRIZZLY BEAR! About 40 feet away! The first thing out of my mouth was "holy sh!t!". Willie and Alan looked at me like I was crazy. "BEAR!!!!" I scream as I run for the bear spray. Willie backed up. Alan picked up a rock. When the bear realized who we were it too freaked out and galloped off. My previous 2 photos had picked up the bear! Can you find the bear here?
Nikon D800 w/Nikkor 17-35mm f/2.8 ED-IF AF-S:
17mm, f/16, 1/4 sec, ISO 100