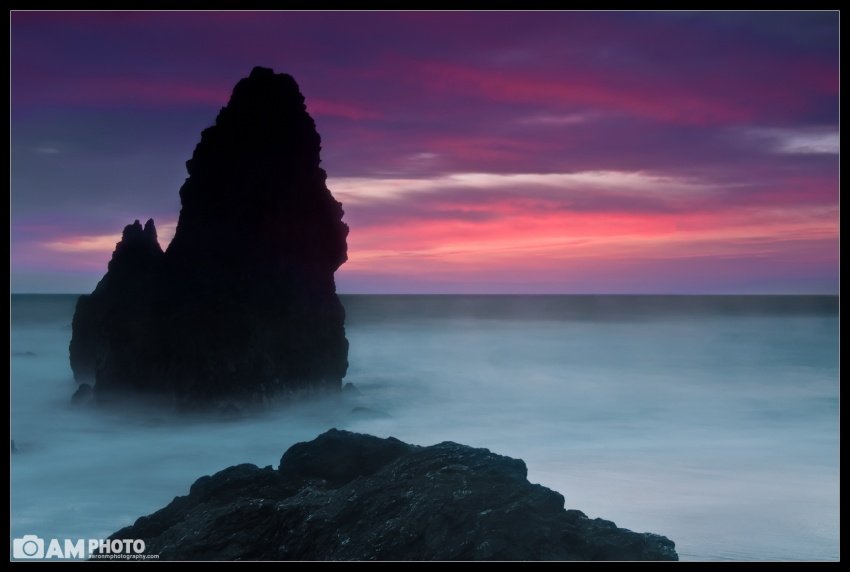 Last week my Lee Filter Holder and HiTek Graduated ND Filters arrived. I grabbed em from the Post Office and went down to Davenport, CA to take photos at Hole-in-the-Wall Beach. Unfortunately the sky didnt light up at all and it was disappointing (not to mention I almost died/drowned on my way in from the beach. thats a whole nother story).
The weather forecast for Wed, April 6th predicted that clouds would be rolling in towards the afternoon. My buddy and I grabbed our cameras, left work a bit early, and drove up to the Marin Headlands to take photos at Rodeo Beach. We knew these rock pillars were here and had seen some great photos of it and wanted to make our go.
I must say, after my experience at Hole-in-the-Wall Beach I was a little scared when I noticed the tide was REALLY high and almost blocked us in again. Fortunately the tied never became difficult and we got in, did our shoot, and got home safely.
Unlike last week, Mother Nature did not disappoint As soon as I threw on the my circular polarizer and the Graduated Filters the sky LIT UP It was like an explosion of color These photos are NOT HDR and have had very little saturation edits (in fact, I had to lower the saturation a bit so that you wouldnt think it was fake) The clouds kept the sun hidden so I didnt have any clipping from a bright sun. It also stayed behind the big rock monolith that you see in the center. The soft graduated filters worked great — gave me some great color in the sky and let me slow the shutter for some neat wave movements. Im quite pleased with how these came out
When we first got to the beach I wanted to slow my shutter down more than the camera was letting me so I threw on my circular polarizer. Near the end of the sunset the polarizer was starting to make things too dark and the exposure times were getting pretty long. I decided to make one really long exposure so that I could gave a fog like look to the water. I knew I had to keep the photo simple so I zoomed into the rocks and let them frame the photo with the gorgeous sunset.
Nikon D300s w/Nikkor 17-35mm f/2.8 ED-IF AF-S:
30mm, f/22, 30 sec, ISO 200, Tripod
BW F-Pro Circular Polarizer Hitech 0.9 soft Reverse ND grad filter, Hitech 0.6 soft ND grad filter, and Lee FK Filter holder