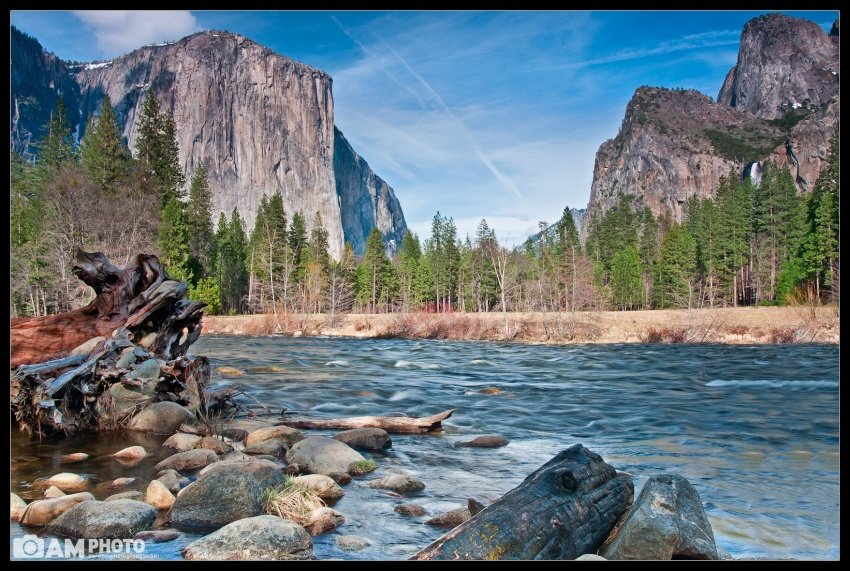 In February I drove out to Yosemite National Park to photograph Horsetail Falls turning into Fire Falls from the setting sun. Hundreds of people flock to Yosemite for this occurrence but many people dont know that the same Fire Falls happens via moonlight only once or twice a year
The moonlight occurrence of Fire Falls occurred at 4:30am on Saturday morning. I drove out on Friday and rented a tent-cabin in Curry Village so that I could wake up in time for the event. After waking up at 3am and taking photos of Fire Falls via Moonlight (see other photo) I spent the rest of the day playing tour guide for my friends who had never been to Yosemite before.
On our way out we stopped at Valley View (also known as Gates of the Valley). This was the first time Ive actually stopped at this well known photographic spot. The sky in this photo was very bright compared to the rocks and logs below and I decided to throw on 5-stops of soft graduated filters. I also wanted to capture the water in a smoother, silkier setting so I threw out the 1-stop and circular polarizer to darken the scene even more and slow the shutter. Other than not having a super-wide angle lens, Im pretty pleased with how this turned out
Nikon D300s w/Nikkor 17-35mm f/2.8 ED-IF AF-S:
20mm, f/10, 1/5 sec, ISO 200, Tripod
BW F-Pro Circular Polarizer Hitech 0.9 ND Soft, 0.6 ND Soft, and 0.3 ND Soft GND, and Lee FK Filter holder
No HDR for this shot.