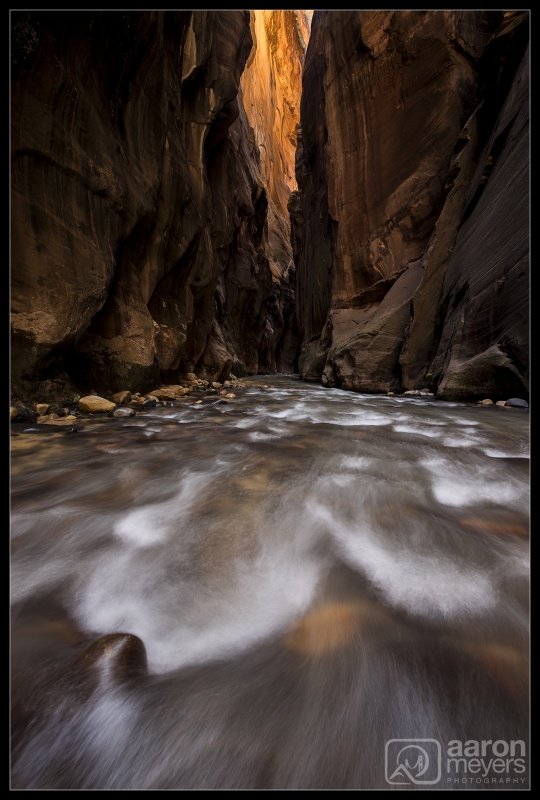 Theres something about Zion National Park that just blows me away and its not hard to call it my favorite National Park. I think its because of the unique hikes that lead to some amazing views. Drive up Zion Canyon, for example, and you can find yourself hiking in the Virgin River as 400 foot red rock walls close in on you, creating the slot canyon known as The Narrows. I first visited The Narrows with Willie and Yan a few years ago and immediately wanted to go back.
Typically people rent special dry-pants, water shoes and hiking poles to make walking through the river easier. I now own my own gear and that meant all I could hop on the first bus to the Narrows and in I went. Arriving early at The Narrows meant I had the entire canyon mostly to myself. By the time I left 5 hours later the entire place was packed like a zoo with curious tourists. I named this photo Essential because its a hike that everyone must do at least once in their lifetime … just make sure to go early and avoid the hordes of people who agree with me.
About 4 miles into the Narrows you arrive at a section known as Wall Street, its where the canyon walls close in just a little more and the walls start to glow orange as the rising sun hits the upper areas and reflects down into the canyon. After walking through the entire Wall Street section I turned back and came across this section that was glowing so intensely that I had to stop.
Nikon D800 w/Nikkor 14-24mm f/2.8 w/Wonderpana Polarizer:
14mm, f/11, 1.3 sec, ISO 100