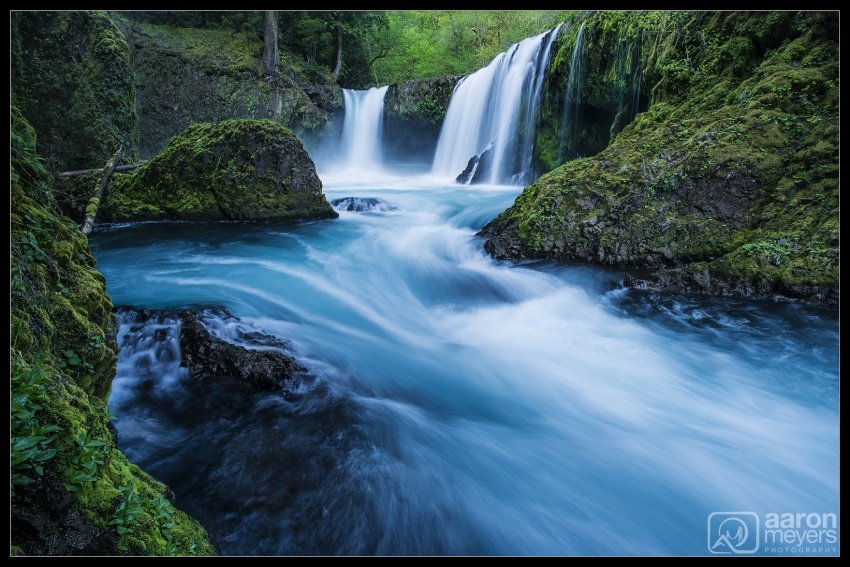 When I set out for the Columbia River Gorge I had one thing on my mind: Wildflowers Id been to this area, just outside of Portland, a few times to shoot waterfalls and I was excited to spend my time photographing something different. Unfortunately the flowers had a different plan. They were all dead, dying, wind blown or just ugly. Not a good year for flower photography.

Willie and I had spent the day shooting waterfalls with some friends but we were determined to make a full day of waterfalls. Neither of us had been to Spirit Falls and we loved the turquoise blue water and decided to make the hike down to this beautiful waterfall.
Theres no real trail to get down to Spirit Falls. Follow the well worn path in the shoal rock and eventually you get to the falls. We just missed a few kayakers making the run (which woulda been awesome to watch) down the falls. It took a bit of searching to figure out how to get the classic view but eventually we found the small waterfall that everyone climbs down and made our way into position. I decided to include some of the leaves, moss, and rock on the left so that they would provide some contrast with the awesomely turquoise water (which was made possible by a nice blue sky day).
Nikon D800 w/Nikkor 17-35mm f/2.8:
17mm, f/8, 0.4 sec, ISO 100