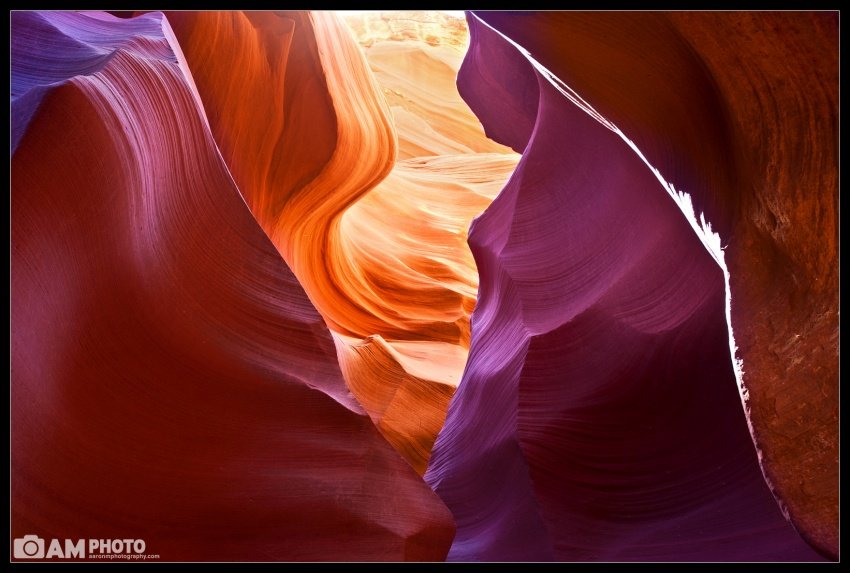 The first official full-day of my photovacation started in Page, Arizona where my buddy Willie, his friend, and I visited Antelope Canyon. We had signed up for a photo-tour with Carol Bigfoot Adventures, which was quite the right decision There were literally hundreds of people in the canyons when we were there and Carols tour guides have the authority to stop new crowds from coming in and waited until we got our photos without people in them.
Our first stop of the day was to Lower Antelope Canyon. The lower canyon is typically known for its abstract shapes and beautiful orange, red, yellow, and purple light (The Upper Antelope Canyon is known for its light rays that beam in and reflect off dust/dirt in the air). Getting into Lower Antelope Canyon is a little tricky: you have to walk through a teeny tiny crack in the ground, down a couple flights of staircases and finally you reach the bottom of the canyon. Its pretty spectacular/breath-taking once you get down there. Our tour-guide showed us several great spots to take photos along the way and also let us stop when we saw something that caught our eye. Once we reached the end he told us to to roam freely as long as we were back to the truck in 25 minutes.
While I was in the Lower Antelope Canyon I was trying to find interesting shapes that could draw the viewers eye into and around the photo. I liked how the lines in these rocks focused the eye into the center of the image and down through it. I also noticed that the light was reflecting off these rocks in several different colors (there was a slight bit of purple that I noticed) and I had to snap away.
I apologize if the title of this photo is a little erotic. I just thought this photo kinda looked like a womans private part
I realize this post has already turned into an essay but I wanted to mention one thing that I wished someone had told me before coming here: do NOT try to bring 2 cameras into the caverns. Everyone says do not try to switch lenses but it turned out not too dirty and switching lenses would have been fine. Typically you want something like an 18-105mm lens in here (35mm numbers. If you have a digital sensor like my Nikon D300s or a Canon 7D youd want a 10mm lens).
For this photovacation I decided to rent a Nikon D700 from LensRentals.com. It performed beautifully and I totally have Nikon Acquisition Syndrome (NAS) where I want to buy the D700 (Im going to refrain, for now).
Nikon D700 w/Nikkor 17-35mm f/2.8 ED-IF AF-S:
35mm, f/11, 1/10 sec, ISO 200, Feisol Tripod