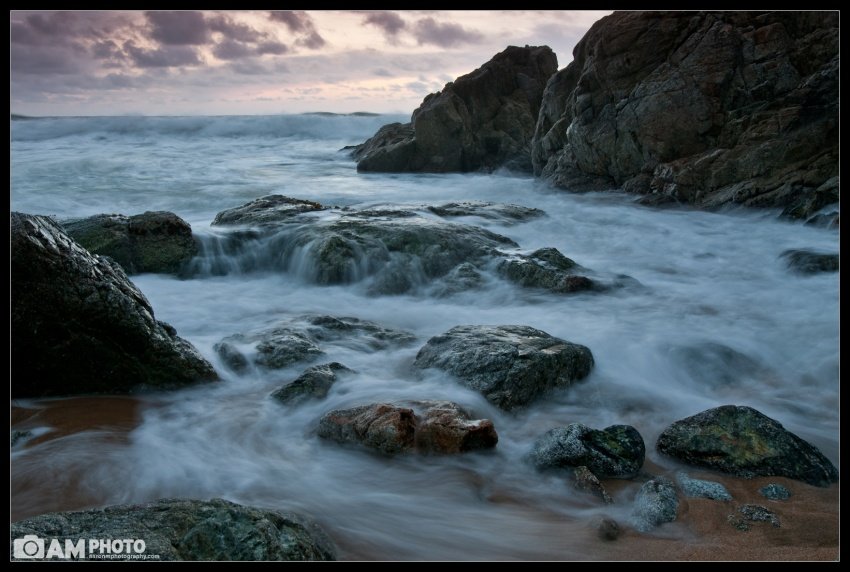 Digging through the archives so I could post <i>something</i>. I've had this photo lying around for a while and finally decided to post it.
Back in March I went on over to Gray Whale Cove in Half Moon Bay to shoot sunset. The photoshoot almost got cancelled because of the (sad) earthquake in Japan that had happened a couple days prior. The tsunami hit California in the morning of our photoshoot and most of the beaches were closed, but by sunset we were able to hit the coast and catch some big waves. I arrived at Gray Whale Cove and Willie was already setup with his super wide lens for the perfect photo. This is a blend of 2 photos (not an HDR): I took an under-exposed photo to get the sunset, and took a normal photo to get the water motion.
During this photo shoot I realized how useful a filter holder and set of graduated filters really was. Willie got some <i>great</i> shots and all I got was a blown out sky! It was this photoshoot that convinced me to go buy my set of soft ND grads.
After taking the photos by a set of rock outcroppings at sunset I decided I wanted to try a different spot with water going over the rocks. You couldn't really see much of the colorful sunset, since there wasn't much color in the sky, but I did take a couple photos and came out with this one. I liked the finished product.
This one is kinda boring since you can't see the sunset at all, but i liked the movement in the water.
Nikon D300s w/Nikkor 17-35mm f/2.8 ED-IF AF-S:
22mm, f/10, 0.8 sec, ISO 200, Tripod