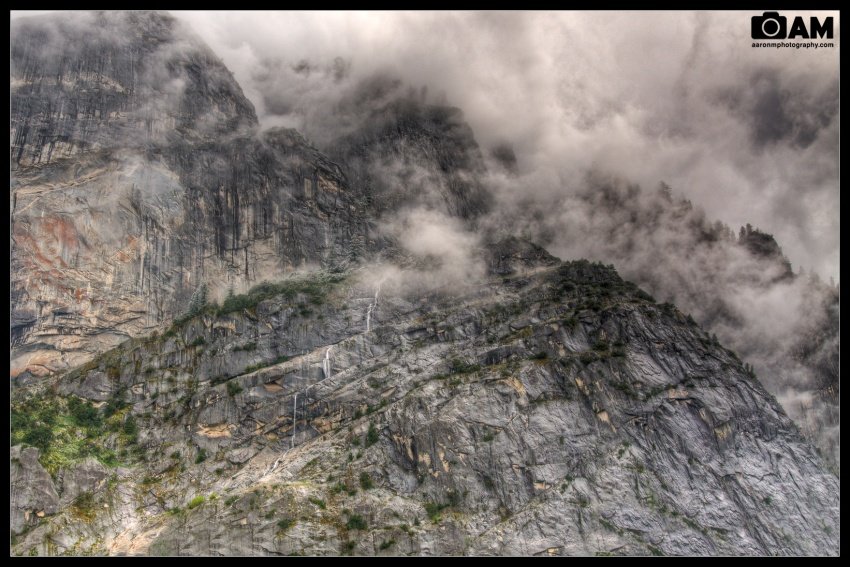 When we got back to the campsite after hiking Nevada Falls we were pretty wet, hungry, and frozen (Sammi had turned into an ice-cube). To warm up we decided to go to Curry Village and get some coffee, hot-chocolate, and just roam around the store and pick up some souvenirs. Zack offered to drive (which I thought was silly) but his car was going to be super warm and Sammi needed to thaw, so I took him up on his offer. Unfortunately, there was a HUGE line of traffic from people trying to leave early on Saturday evening. I think we sat in line for about 30 minutes just trying to move the 0.2miles to Curry Village. At one point I got sick of waiting in the car so I got out, took my camera, and decided to see if maybe everything was stopped because of a bear (there was no bear, it was just a lot of traffic).
While out of the car I turned around, facing Curry Village, and saw this neat little waterfall trickling down the rocks. This waterfall isnt usually there, but I loved how it made steps coming down the rock, and the fog/clouds in the background were just awesome and too good to pass up!
Nikon D300s w/Nikkor 17-35mm f/2.8 ED-IF AF-S:
28mm, f/10, ISO 320, Handheld
HDR composed of 5 photos merged in Photomatix Pro and edited in Photoshop CS5.