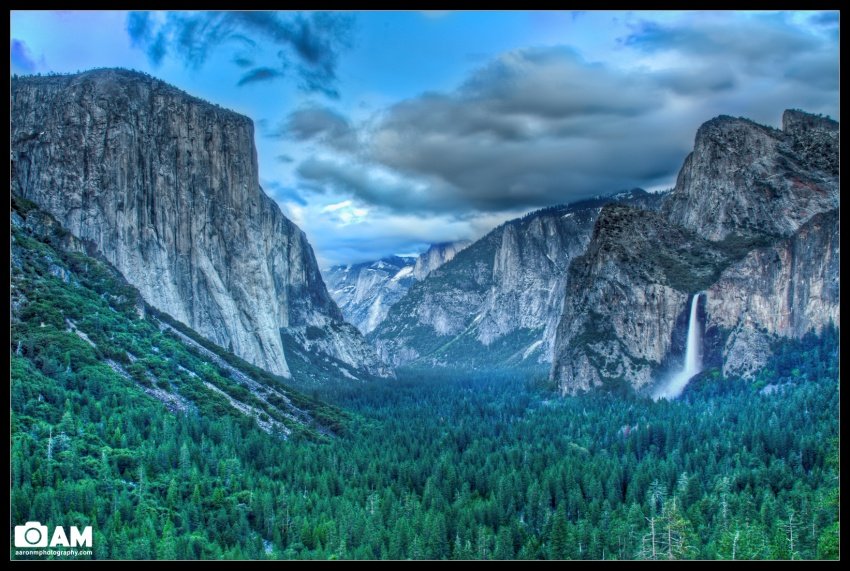 This was my 5th year coming to Yosemite and I've never made it to the Tunnel View made famous by Ansel Adams. At about 7pm we drove up Tunnel View hoping to get a sunset shot of El Capitan, Half Dome, and Bridalveil Falls. Unfortunately, the sun/clouds didnt play nice and it just looked kinda gloomy (I was really hoping for a nice red reflection off the rocks). Instead, I brought out the D80 with the 70-300mm lens on it and shot this photo of Half Dome and Bridalveil Falls.
I was actually surprised by the fact that 70mm (on a DX digital sensor) was too long of a focal length for this scene. Even when I kept backing up and backup up I could not get El Capitan, Half Dome, and Bridalveil in the scene. My 35mm lens wasnt quite long enough for what I wanted and I no longer have a lens that goes between 35mm and 70mm. 45mm would have been perfect for this scene.
Nikon D300s w/Nikkor 17-35mm f/2.8 ED-IF AF-S:
35mm, f/16, ISO 200, Tripod
HDR composed of 5 photos merged in Photomatix Pro and edited in Photoshop CS5.