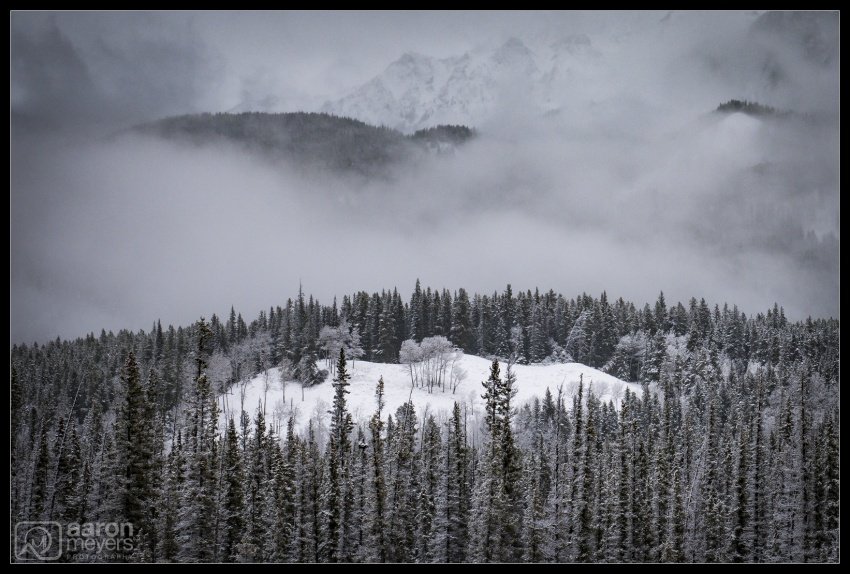 Willie and I woke up to find several inches of fresh, beautiful snow on the ground. We had grand plans of doing a bit of driving and kept our fingers crossed that the roads would be clear enough to visit all the spots we had planned for the day. The plans involved finding as many snowy trees as we could, plus a drive all the way up to Peyto Lake to see a grand vista.
We stopped at a number of spots before making our way to the highway and over to an area known for rows and rows of trees. We had stopped at the Castle Mountain vista point before and couldnt help but find ourselves drawn to this pull-out off the highway once again. The way the clouds kept pulling at the mountains in the background drew us in.
Willie and I both grabbed our big lenses to continue with our theme of intimate photos. Neither one of us spoke but we happened to both see the same thing in this scene; the clear patch of trees was just calling to be photographed. I love how the mountains peak out in the background while the clearing just begs for someone to lay down and take a nap.
Nikon D800 w/Nikkor 24-70mm f/2.8:
56mm, f/11, 1/125 sec, ISO 320