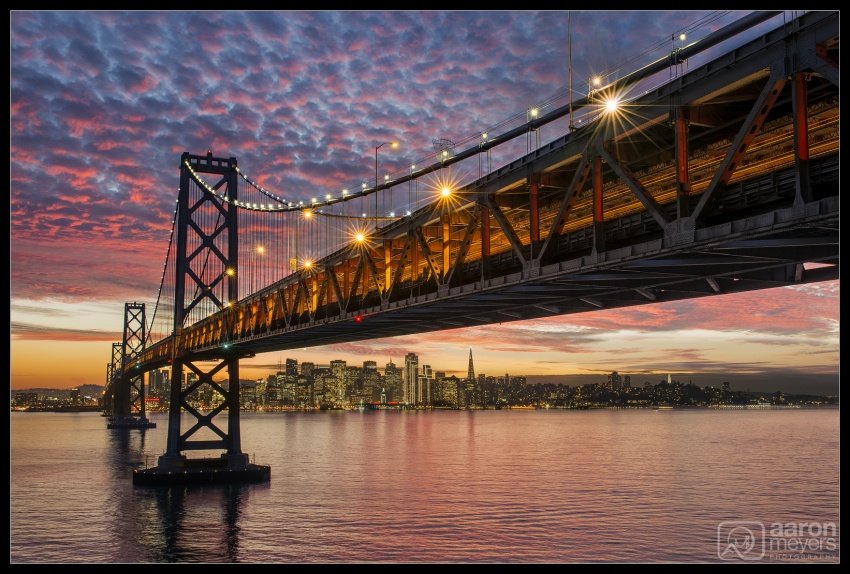 Ive made a number of trips to Treasure Island (Yuerba Buena Island, to be exact) to visit this spot under the Bay Bridge. Its not easy to get to, you have to park far away and walk, and the traffic getting here is a pain in the butt, but its always worth the effort The way the Bay Bridge frames the photo is pretty much perfect. I have a number of photographs from here that I love, but none with a sky that was entirely lit up with pink, purple, red, and orange color.
Willie and I left work pretty early to get to the Bay Bridge in time. Even leaving at 2pm, we still got stuck in a bunch of traffic. I also invited one of my co-workers, Alex, along, since shes been wanting to play with her shiny new D800. Jeff and Tung happened to be waiting in the car when we parked, so the 5 of us made our way to the bridge and down to the spot. We all were in for a treat.
Escaype had predicted a beautiful sunset and we had high hopes as we waited and watched the clouds fall into position. We kept praying theyd move a bit faster, so it would fill in some empty holes in the sky. Luckily for us, it did exactly that, and the sky little up like pillows, with beautiful pinks, and oranges filling the sky. The holiday lights along the Embarcadero complete the beauty of the SF skyline.
Nikon D800 w/Nikkor 24-70mm f/2.8:
29mm, f/14, 0.5 sec, ISO 100