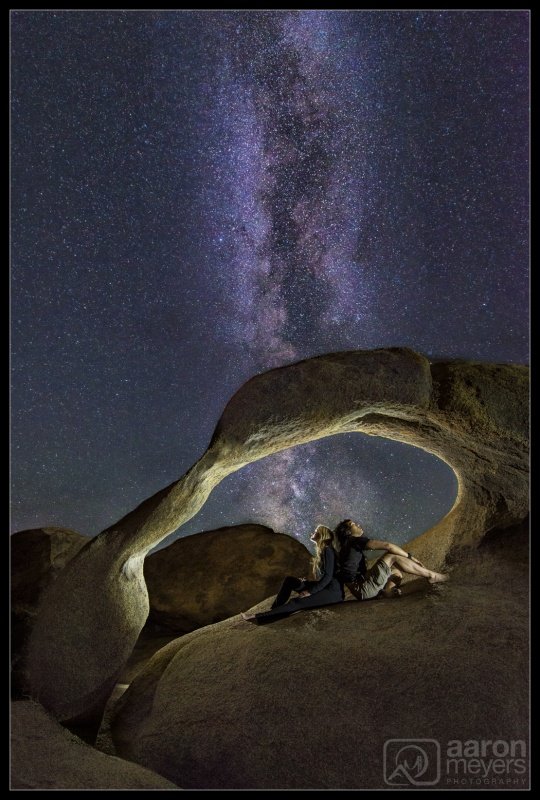 Superstar photographer Ben Von Wong joined SmugMug on our epic company retreat this year in Park City Utah and I enjoyed getting to know him and his girlfriend Anna over the 7 day trip. When they asked me to cancel my flight home and spend 4 days driving to San Francisco with them and Nick, I knew I couldnt refuse
I shouldnt have been surprised to learn that Ben, whose photographs always include people, didnt have the patience to wait for Nick and I to do our landscape photographer thing. As long as the hike or the scene would be epic we might capture his interest long enough not to make us pack up and head somewhere else. We hiked The Narrows. We walked the Vegas strip. We explored eroded landscapes and salt flats in Death Valley. And on the last night we showed him the Milky Way for the first time with his naked eye. Ben and Anna have been creating a selfie-series of photographs, taking fun and unique portraits of themselves in unique places. Mobius Arch was going to be another stop in this series.
We made our way to the Alabama Hills in Lone Pine, California and arrived at Mobius Arch just after sunset. We made a quick stop to use the Sky Guide app to figure out when the Milky Way would align properly and went off to grab a pizza dinner. When we got back to the arch, Ben knew immediately where hed be setting his camera down for his epic Milky Way selfie I on the other hand, struggled for almost an hour to find a composition that I liked (for an epic landscape). Thats when I decided you know what, lets get in on this portrait photo I found a different spot to place my camera and while Ben composed his as a landscape photo, I placed my camera as portrait orientation.
To capture this photo Ben and I would set my camera on a 10-second timer. At the 8 second mark, Ben would use an app on his Android phone to trigger a 2-second timer on his camera. Meanwhile, I would grab my flashlight, right to the right of them and prepare to light-paint them. I fired a quick flash of the light on Ben to provide the light on his legs, arm, and face. Meanwhile, Nick, hiding behind the arch, lit Annas face and then painted the underside of the arch. Once we had a light-painted version we were happy with, Ben and Anna moved out of the scene, and I took a second photograph with a longer exposure and no lights to get a photo without strange shadows on the rocks. Lastly, we refocused on the stars, and took a 3rd photo to capture the Milky Way in all its sharpness and glory.
Nikon D800 w/Nikkor 14-24mm f/2.8:
15mm, f/2.8, 15 sec, ISO 2000