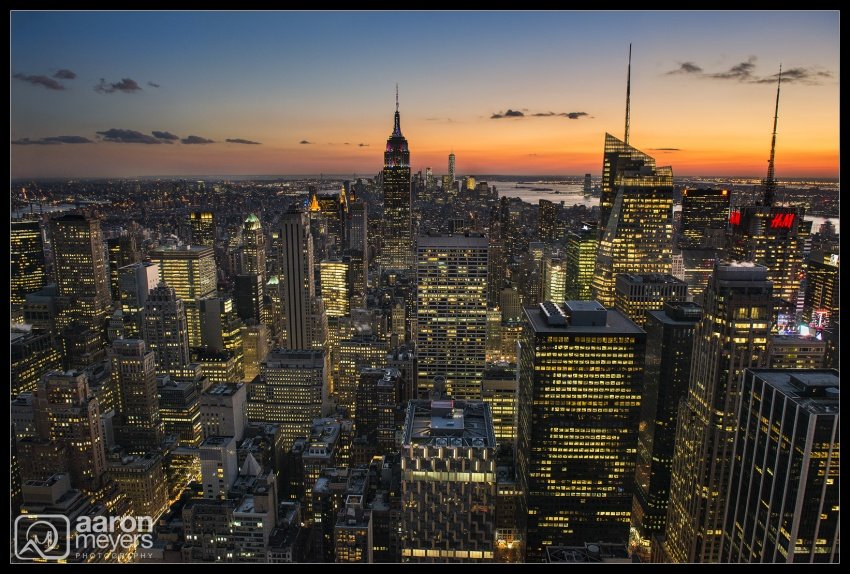 New York City has always held a special place in my heart for a number of reasons but mostly because I lived 45 minutes from The City for all of my childhood. Ive spent many nights in the city with family, watched numerous Thanksgiving Day Parades, ice-skated, seen Broadway plays, ballets, watched the Rockettes and enjoyed The Nutcracker. The one thing I had never done though, was bring my SLR to capture photos of the city.
I spent New Years Eve in New York and decided that I was going to bring my camera and be on top of the city at blue hour before The Ball dropped. The top of the Rockefeller Center Building (also known as Top of the Rock and home to NBC Studios) has some of the best views of the NYC skyline: Times Square off to the right, the Empire State Building and World Trade Center in the middle, the Brooklyn Bridge to the left … in fact, you can see where The Ball is setup on the very right of the photo, all set to go for the midnight countdown
I arrived at Top of the Rock at sunset and staked out my spot on the 68th floor, between 2 sections of the glass walls. The spacing between glass panels is just wide enough for a lens to fit through and thats exactly what I did. Tripods arent allowed and I had to hand-hold the camera and keep shutter speeds short by increasing the ISO and aperture.
Just below Top of the Rock lies one of NYCs most famous restaurants: The Rainbow Room, which holds a special place in my heart. In 1986 the Rainbow Room underwent a major renovation, overseen by Joseph Baum, my great-uncle. The Rainbow Room and other restaurants he spearheaded like The Four Seasons and Windows on the World (on top of the WTC) became some of the most well known and highest grossing restaurants in history. Although I was too young to participate, my family had many parties at the Rainbow Room, just a few floors below where I was standing to take this picture.
I thought about staying to watch The Ball drop, or even trying to barge my way into The Rainbow Room to pretend I was partying with my great-uncle but when my belly started to rumble I decided it was time to go. Happy New Year everyone
Nikon D800 w/Nikkor 24-70mm f/2.8G ED AF-S:
24mm, f/6.3, 1/10 sec, ISO 800