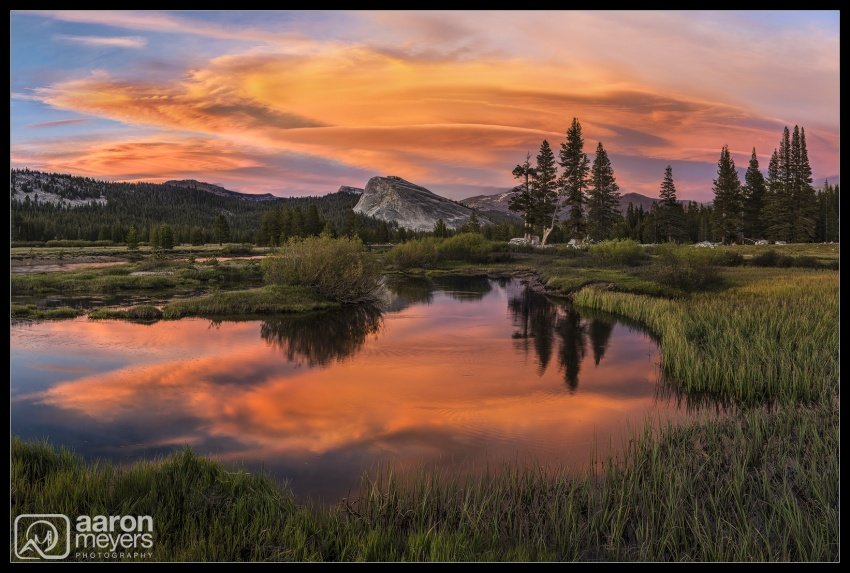 For the last 8 years Ive gathered my friends in Yosemite National Park to celebrate my birthday (or, as of late, more of a belated birthday celebration). A few of us drove up early Friday morning and spent the day setting up camp, relaxing, making dinner, and then racing out for sunset.
While cooking dinner I looked up at the sky and noticed some high clouds had moved in but they were primarily only in one small patch of the sky. We all agreed to head to the Meadow to watch sunset: my friends wanted to walk while I wanted to drive so I could continue on to shoot the Milky Way at Olmsted Point. When I got to the Meadow I realized I was wayyy too close to Lembert Dome I needed to be further away. Ditching my friends, I drove towards the Visitors Center and got out by a nice little pool of water facing west. To my frustration, there was not a cloud in the sky to the west.
The old saying of look behind you couldnt have been more true on this evening. When I turned around and saw the absolutely GORGEOUS lenticular clouds behind me, I didnt even think grab your camera bag I just took off running for the Tuolumne River. I knew I wanted Lembert Dome, the river, and the amazing sky in my photo. Thankfully neither bear nor human touched my camera bag during the 30 minutes I was away shooting.
I took quite a number of photos as the amazing lenticular clouds glowed orange and red. In this case I stitched 11 photos together to form a 63 megapixel image and then cropped to this 40 megapixel image. The title of this photo, is a play on the name of the area, Tuolumne (pronounced Two-all-um-knee).
Nikon D800 w/Nikkor 24-70mm f/2.8G ED AF-S:
24mm, f/10, 1/3 sec, ISO 100
11 image panorama, cropped