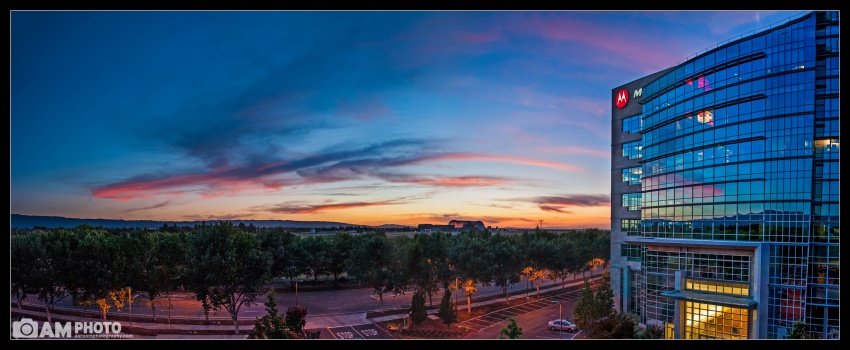 Willie and I left work earlier and found the an empty parking garage near work to setup camp and photograph the Transit of Venus. The Transit started around 3pm and that meant we had to leave work earlier. At one point Willie went back to work and then eventually went home to finish off the Transit. I decided to stay. Have you ever spent several hours sitting on top of a parking structure, alone, with absolutely nothing to do but make sure your camera is taking a photo every minute Yea, I didnt think so, because its BORING as heck
About an hour and a half before sunset I thought about racing home and finishing off the Transit there, as Willie had done. Thats when I noticed that some beautiful clouds were beginning to roll in. I decided to stay. Right about that time I felt my phone buzz and I looked down to see a text message from Willie: Are you still there DONT LEAVE Im coming back He had seen the sweet clouds too.
Willie and I watched what we had hoped would be a gorgeous sunset turn into a huge disappointment. A little bit of color lit up some of the clouds with some orange colors and then they faded. Willie packed up. I had 2 cameras and 2 tripods out and as I finished packing one of them I looked up to see the sky behind us was starting to turn a beautiful pink. I raced to put the D700 on the tripod as the sky began to light up with pink, purples, and fading oranges. What a treat We hadnt expected there to be a good sunset got our hopes up were disappointed and then were surprised when the sky lit up again I clicked off a few photos but wasnt really happy with any of the compositions that the top of a parking structure offered. Just when I thought the light was fading and began to pack up my tripod I noticed that more of the sky had taken a purple color. I pulled the camera back out, and being too lazy to setup the tripod I bumped the ISO up a bit and snapped 6 photos with the intention of putting them together into this panorama.
This photo looks out over the NASA Ames facility. In the background you can see the skelaton of Hanger 1, which is under repair to remove toxic chemicals that were found to be leaking into the ground. Hangar One is one of the worlds largest freestanding structures, covering 8 acres. It was built in the 1930s as a naval airship station for the USS Macon, a rigid airship (aka blimp) built for the navy. On the right you can see one of the new Moffit Towers buildings, which is currently being renovated for Motorola Mobility to move into. Earlier in the day I knew that I wanted to use the glass panels of the building to reflect the sunset and I think it worked perfectly here
Nikon D700 w/Nikkor 24-70mm f/2.8G ED AF-S:
24mm, f/8, 1/50 sec, ISO 640
6 images stitched together in Photoshop