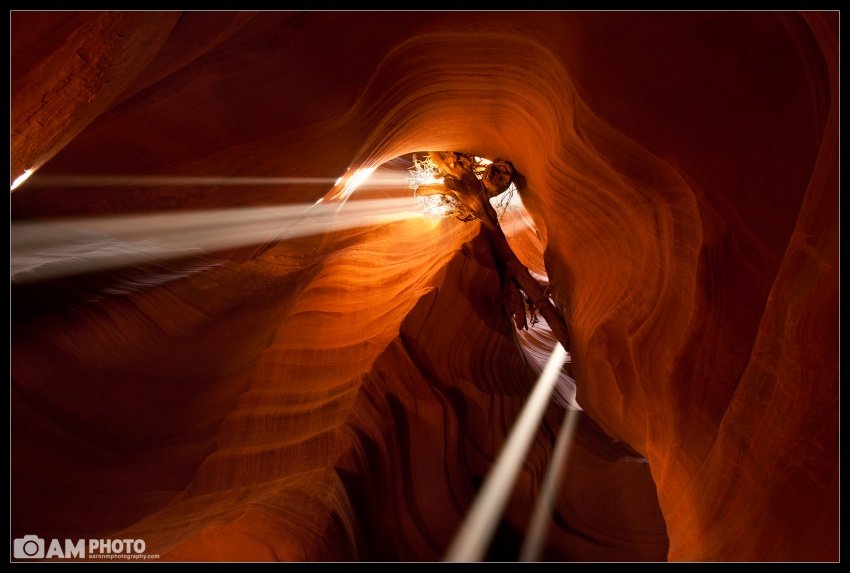 Of all the things we saw in Antelope Canyon I have to say that this was the most stunning. We arrived at this spot and setup our tripods due to the recommendation of our photo-guide (thanks to Carol Bigfoot Adventures). After waiting a minute or so with nothing to photograph or see we were a little curious what we were looking for. All of a sudden we looked up and a light ray started to come through the whole in the ceiling and through the tree. The tree broke the light ray up into more, smaller light rays. As we started clicking away the light began to make the tree glow in the most glorious colors. The more we waited the more light rays started creeping in.
Im so glad that I had a remote shutter connected to my camera while photographing this. This was one of those times where you absolutely have to take your eyes away from your camera and just witness the scene with your own two eyes. Thanks to the remote shutter I could see the amazing light enter the Canyon while still being able to click away on the camera.
Because of the bright light coming from the hole in the cavern I had to blend 5 different exposures (mostly just around the tree). This is not an HDR: I simply created masks in certain areas to get the detail back in some spots.
This shot is part of my Arizona Photovacation Series. On our trip we stopped at Horseshoe Bend, Antelope Canyon (Upper/Lower), the Grand Canyon, and Sedona.
Nikon D700 w/Nikkor 17-35mm f/2.8 ED-IF AF-S:
22mm, f/11, ISO 200, Feisol Tripod
NOT an HDR: 5 photos ranging from 0.4 seconds to 2 seconds