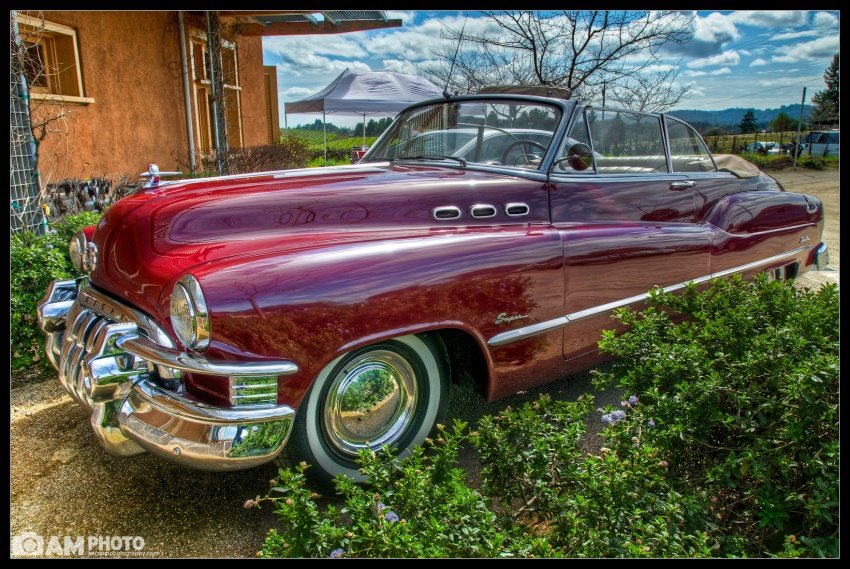 As many of you may know from my previous photos I like to go wine tasting …. a lot. I belong to a couple wine club's in Napa Valley and therefore I spend most of my time there (free tastings!). I've only been to Sonoma Valley once and when my friends mentioned that there was a weekend of Barrel Tastings in Sonoma for only $20 I jumped on and bought my tickets. For $20 you could go to ~150 wineries in Sonoma (both Sat/Sunday), got a souvenir Reidel wine glass, and a lot of the wineries had food. It was pretty neat because you could taste the wine in the barrel (free bottling/blending), then go taste an earlier years finished product. We had a blast.
At Ridge Winery (which I'm a club member of) I noticed that there was an old buick in the parking lot. I grabbed my camera and snapped this HDR (which I thought made for a neat effect). I tried to keep it realistic and blended in the neutral RAW photo for most of this.
The thing I like most is that the reflection of the tree branches in the hood of the car makes the word "Older"!!!!
Nikon D300s w/Nikkor 17-35mm f/2.8 ED-IF AF-S:
17mm, f/7.1, 1/400 sec, ISO 320, Handheld
HDR composed of 5 images – processed in Photomatix Pro and Photoshop