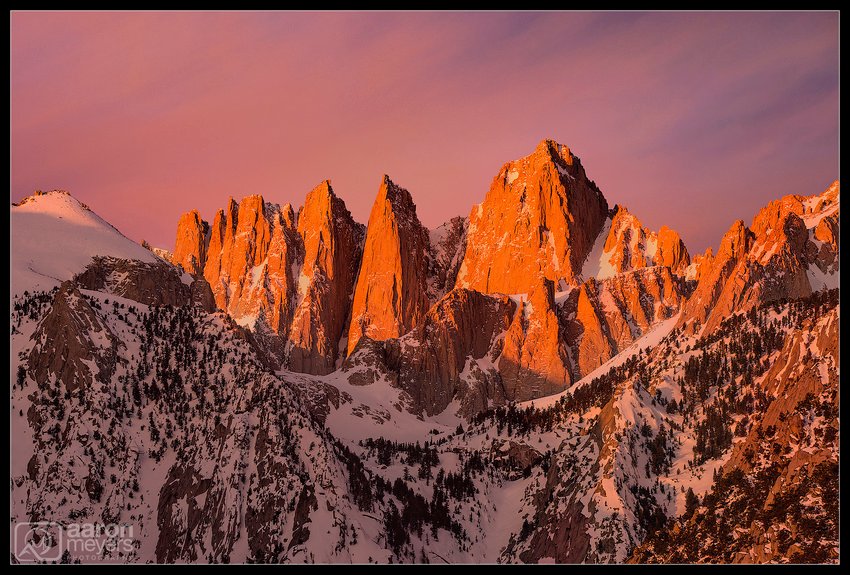 Dedicated to Whitney Engler: Sept 9, 1987 – Mar 27, 2015 (see more below).
In 2017, Willie and I drove to the Eastern Sierras and met up with David Thompson, Nolan Nitschke and Paul Rojas. I had known Paul and Nolan for years on flickr and facebook but had never met either of them in person, so it was super awesome to spend the weekend with them. We ran back and forth chasing the light and trying to find new scenes all weekend.
On our last morning we stopped back in the Alabama Hills to see if the clouds would part and give us a glimpse of Mt. Whitney, the tallest peak in California (I suppose its also the highest peak in the contiguous US too). A thin layer of clouds gave us hope that we might catch a little color in the sky as the sun started to light up the peaks. We were in for a treat, as mother nature honored our last morning here (the sky behind us was going crazy).
I dont think David, Willie, or Paul had any idea how emotional this scene was for me. I dont talk about it too much. Every time I think of Mt Whitney I think of a friend I dont get to see anymore. On March 27, 2015 one of my good friends, Whitney Joy Engler, was shot and killed by her roommate, in their home at UC Davis. To this day we have absolutely no idea what caused this tragedy to happen.
I met Whitney during my grad school year at the University of Michigan. I was a 5th year graduate student and she was a freshman, who happened to live on the same floor of the dorm as one of my roommates sisters. They came over for an orientation-week party at our house and we bonded over living in California, a love of strawberries, and Jimmy Eat World (ugh, dont remind me). Over the course of the year we became close friends, a friendship which continued even after I graduated and moved to California. When she finally graduated, she moved back to California and eventually enrolled in Vet school at UC Davis. Being so close, wed meet in San Francisco for drinks or Id drive to Davis to whisk her away from the stress of vet school for the weekend. We had plans for her to come spend the weekend with me before she graduated but at the last minute I cancelled, asking to reschedule because I had a busy week at my new job and wasnt sure I had the energy to play host. We never got to pickup that raincheck. Before taking his own life, her roommate shot her in the head and chest. The only insight was a note he left on his computer, telling his family he was sorry for taking his own life. It mentions nothing of involving Whitney and we have no idea why he took her life along with his own.
Her roommate had no signs of mental illness. He owned several guns for recreational purposes. Nothing anyone could have done would have prevented him from purchasing those guns (including any proposed regulations on screening for mental illness). Some could argue that someone who wants to kill will do it regardless of whether or not they have a gun, and while that might be true, had Whitneys roommate not had a gun she might have had a chance to survive. That chance was stolen by this person and the specific weapon that he owned. She might have found a way to fend him off. Her dog may have helped come to her rescue. She might have been able to dodge a knife, block an axe, stop a beating, or slipped out of being strangled. A weapon less brutal as a shot to the head could have given her a chance. As I sit here contemplating the recent school shooting in Parkland, Florida, I dont know what the solution for the future is. But I do know that the brutality of this weapon, of a gun, decreased the chance that my good friend could have been sitting next to me as I watched the sunrise on Mt. Whitney. As I sit here, remembering the warmth glowing off the peaks of this majestic mountain, I cant do anything but hope that our leaders will use the massive intelligence within this nation to come up with a solution to decrease the brutality in which were currently living in. If we can send a man to the moon, build rockets that can land themselves exactly where they took off from, and can build cars that can drive themselves, cant we do something to make this world safer
Whitney, I miss you terribly. I wish we could be enjoying more adventures together. I wish you could have seen Mt. Whitney with your own two eyes. But thank you for shining down on us on this cold morning in February and letting me take a photo to help remember you by.
Nikon D800 w/Sigma 150-600mm
210mm, f/11, 1/30 sec, ISO 100
Available for purchase at Aaron M Photography (proceeds will go to her family)