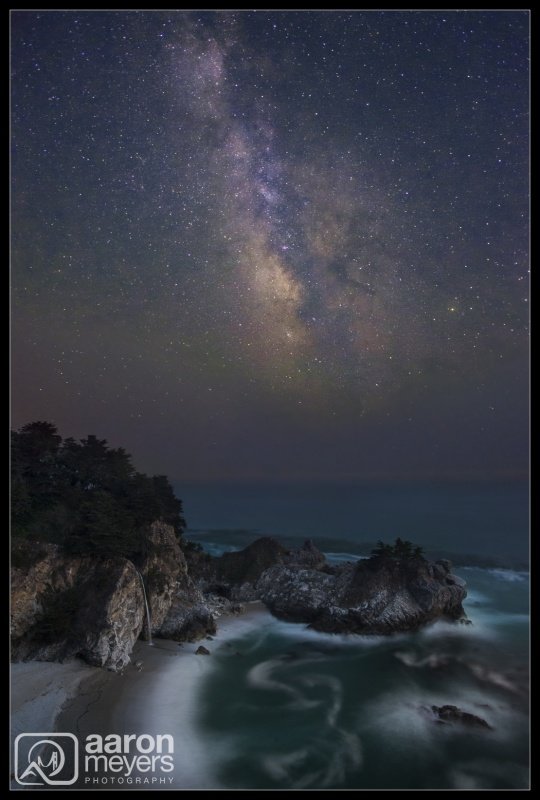 It's been a while since I've had a photo to post … although it seems like I've been up late editing photos every day for weeks. Between getting sick, dabbling in people photography and trying to get through hundreds of fiery Hawaiian volcano photos I haven't got much sleep lately. This particular night especially…
Years ago I remember seeing John Harrison's photo of McWay Falls in Big Sur, CA and knew I had to visit. Last year Rick Whitacre shot the Milky Way here and once again I knew I had to go back. Thwarted by fog and busy schedules I never had my chance, that is until this awful heat wave we've been having here in west coast. The high temperatures kept the fog from creeping in and with the summer time position of the Milky Way I knew I had my chance! Turns out Rick was on his way down that night but I wasn't going down until the following day. Yan decided to join me for a bit of fun.
Yan and I arrived at sunset and setup our compositions and focus while we still had some light out. Then we waited. And waited. And waited. At 10pm another photographer, Joel, from Canada arrive and he came with some mighty powerful LED lights. We waited some more. It wasn't until after 1pm that the Milky Way finally moved into the frame for my liking. Joel setup the LED lights far to our right to avoid the backscatter of the lights reflecting off the moisture in the air and also to give it a natural look — all in one shot!
Nikon D800 w/Nikkor 17-35mm f/2.8 ED-IF AF-S:
20mm, f/2.8, 20 seconds, ISO 3200