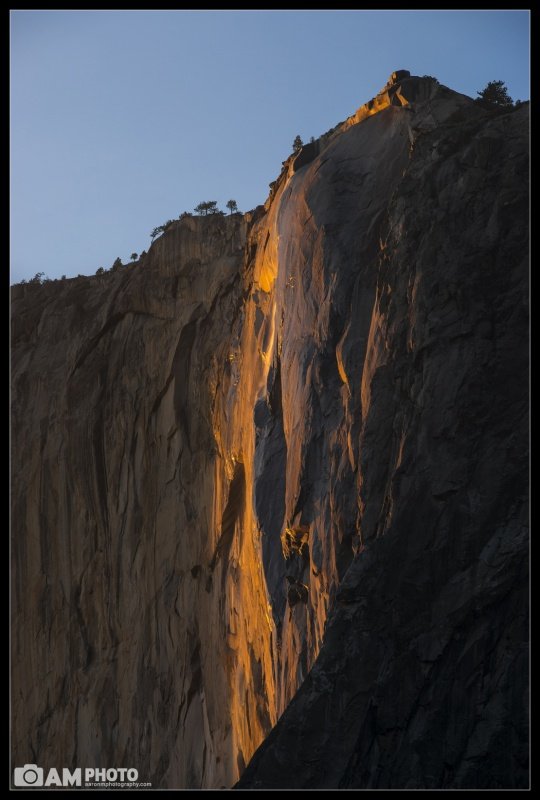 Although Galen Rowell first photographed the Horsetail Falls "Fire Falls" in 1973 it was only until recently, with the popularity of the internet and social media, that this became a popular scene. During 2 weeks in February the sun sets at just the right angle that the orange glow reflects off the water and granite wall giving it the appearance of fire. Thousands of photographers flock to Yosemite National Park each winter to photograph this. In order for the Fire Falls effect to happen there needs to be plenty of water in the waterfall, the angle of the sun has to be just right, and the sky needs to be clear enough not to block the light from the sun.
There are 2 main locations to photograph the Horsetail Falls Fire Falls: one by the El Capitan picnic grounds (on Northside Drive) and the other along the river bank further south (on Southside Drive). Having photographed this event from the Southside Drive location in 2011 I decided to photograph from Northside Drive this year. Willie, Alan, and I drove down to Yosemite National Park on Friday afternoon and spent the entire weekend in Yosemite. My cousin and his friend also joined us.
As most people have pointed out the water level this year has been awful. A few giant storms in December gave way to an extremely dry January and February. When we arrived on Friday afternoon we could barely even find the waterfall, which is supplied by snowmelt from the top of El Capitan. Although several inches of snow fell a few days earlier the water level was looking pretty abysmal. On top of that, clouds kept rolling in. Luckily the clouds disappeared an hour or so before sunset and the only issue we had to tackle was water level. Not enough snow melted and we ended up disappointed with a mostly wet wall and not much waterfall.
Willie, Alan, and I spent the rest of the weekend freezing our tuchases off as we drove around the park trying to find other things to photograph. We also ran into a number of other photographers that we have exchanged emails, comments, and conversations with: Jean Day, Matt Granz, Michael Bonocore, Joe Azure, and Chung Hu to name a few. We also spent almost the entire day with Jeff Lewis, which was great after failing to meet up with him on past trips and exchanging perhaps a bazillion emails with him. On Saturday we also had dinner with Kristal Leonard.
We decided to cut our trip short and leave the park early on Sunday morning. Just as we drove out of the park at 9:30am we noticed that Horsetail Falls was *gushing* with water. We could see it with our naked eye! Scratch the plan to leave — we turned around and went to the lodge to get some grub. Unfortunately when we returned at the waterfall a couple hours later the waterfall was completely gone again! Oh well, next year!
A little timelapse and some other photos in the comments below…
Nikon D800 w/Nikkor 80-200mm f/2.8 AF-D ED:
200mm, f/11, 1/50 sec, ISO 100