This past weekend Willie, Will, and I spent our time out in Yosemite National Park due to the fact that the position of the full moon (it was actually a "SuperMoon", the largest moon of the year) was going to create lunar rainbows, or "moonbows". We had photographed a Moonbow from the Upper Yosemite Falls trail last year and came out with a great photo. Thanks to the fact that some professors from Texas now post the Yosemite Falls moonbow information on the web, pretty much anyone and their mother shows up to watch or photograph the moonbows in May. We wanted to get something different and had seen a couple photos of moonbows from Cascade Falls and we decided that was what we would capture.
When we arrived at Yosemite, the first thing we did was scout Cascade Falls. After a failed attempt at finding the perfect location, we settled on another composition that would show us most of the falls (but not the top). We thought we'd stay dry. Hah, yea right. Once our scouting was done we met Kristal over at Tunnel View to shoot some rainbows in Bridalvail Falls. Willie's calculation was spot on and the waterfall turned into some really neat colors. You can see a whole range of colors in this photo: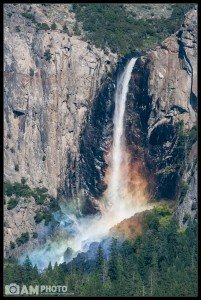 The light really changed as we started shooting. At first, the misty bottom of the falls received the colorful light, but by the end, the color had traversed up, almost to the top of the falls. It was pretty neat to watch:
After checking into our tent-cabin and getting some food, we went back to Cascade Falls to wait for the moonbow. We weren't sure exactly what time the moonbow would occur but we wanted to be ready. Quickly we realized things weren't as planned — the wind had picked up and our "dry spot" was now really wet. We threw on all our rain gear to protect the camera and hoped our lenses would stay dry. About 9:15pm we saw the first signs of a moonbow and raced to setup and start taking photos. I had just enough time to clean my lens and get 1 exposure before I had to clean the lens again. I went through 3 microfiber cloths (which ended up sopping wet) to get this photo:
After getting completely drenched at Cascade Falls we raced over to the Yosemite Falls Meadow in hopes of catching a couple moonbows out there. I started taking a timelapse video since we had some time to kill. I guess the water from Yosemite Falls wasn't strong enough to kick up enough mist because the "moonbow" that we got was really small and much lower than we wanted. I saw a photo taken a couple hours later (we gave up at 12:30am, this was taken at 2am) that was really nice, so perhaps we left too early?
I also threw together a startrail version of it:
When I got home I downloaded all the images and threw together a quick video in Final Cut Pro. You can see how the light moves around: