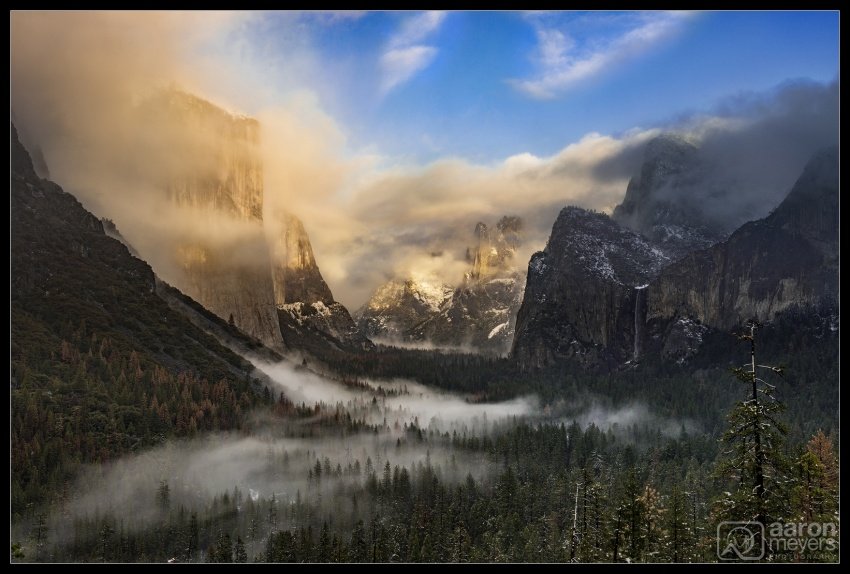 Theres a reason why Ansel Adams photos of Yosemite National Park became so famous theyre absolutely stunning. Tunnel View is one of those iconic spots that everyone has to see in real life at some point. Photos dont do it justice. Well, often they do, and even after seeing a million photos from this spot, I never get tired of them. Thats because the scene can change so much from photo to photo.
Willie, Zack, and I had ventured to Yosemite early on a Friday morning in December 2015, in hopes of capturing a beautiful sunrise. We drove all through the night, arrived just before sunrise, slept an hour, and then spent the day exploring. The beautiful snowstorm didnt produce what we wanted and by noon most of the snow had melted off the trees. Towards sunset, however, a new storm started to roll in and we had high hopes that sunset might provide us with an excuse to take some beautiful photos.
Sunset turned out to be a dud, the storm blew in and covered the entire scene in clouds. What it did do, however, was provide an amazing display of light, fog, and cloud coverage just before sunset. The golden hour glow turned the low storm clouds into a golden mask, hiding El Capitan, Half Dome, Cathedral Peak, and the other mountains in a beautiful golden blanket. Fog rolled in and danced amongst the trees, while blue sky tried to fight back against the incoming storm. It provided quite the extraordinary view before the entire thing became covered in clouds again.
Nikon D800 w/Nikkor 24-70mm f/2.8:
45mm, f/13, 1/25 sec, ISO 100